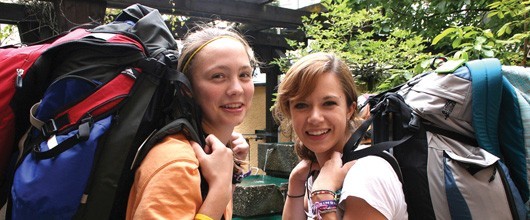 Travel
Girl Scouts love to travel—from the field trips they take as Brownies to the global adventures they go on as teens. If you love exploring different places and cultures, then Girl Scouts is the place for you.

You can experience all that our country has to offer, whether you're "blasting off" at Space Camp in Alabama, taking in a Broadway show in New York City, or visiting the birthplace of Girl Scouts' founder, Juliette Gordon Low, in Savannah, Georgia. And you can plan even bigger adventures around the world, traveling with other Girl Scouts who share your love of adventure.

Check out Girl Scout Destinations, the ultimate adventure program for girls ages 11 and older. With a ton of different trips to apply for every year—from surfing camp on the east coast and breathtaking hikes out west, to the crazy-cool wonder of new cultures abroad—there's something amazing for everyone to experience.
Make friends from all over the country as you travel with Girl Scouts from different states, see and learn new things, and pack your bags full of inspiring, life-changing experiences and memories. Find your trip today!

Destinations for Girls Application Process

How to apply for a Destination for Girls:
Download the Destinations for Girls Application. 

T

his application consists of three parts: 

The Application Form
Essay (you must use separate sheets of paper)
Reference Form (you must ask two people to provide a reference for you. They should send the reference directly to the council office.)
 

You can apply for up to FOUR destinations, but you need to complete a separate application for each trip. You may use the same short answers and same references for each application; you just need to write a different essay for each trip application.


Type or print clearly using black ink. Complete the entire application, and continue questions on a new page if your answers are longer than the space provided. Clearly label the extra pages with your name and the title of the Destination.


Please write your essays on separate pages.


Be sure to include your name and the name of the Destination on the top of each page of your application.


Make a photocopy of your entire application before sending it to your council.


Make sure you and your parent/guardian signs the last page. A staff person from the council office will sign after they review your application.


Send or take your completed applications to the council office by:

Round 1: the Friday after Thanksgiving
Round 2: February 1 
Note: If you miss the round 1 application deadline, your application will be placed with the round 2 applications. Many trips fill up during Round 1, so try to apply before the first deadline!

BY MAIL
GSACPC
Attn: Destinations for Girls
119 E Coronado Rd
Phoenix, AZ 85004  
BY EMAIL
Send your completed application to destinations@girlscoutsaz.org.