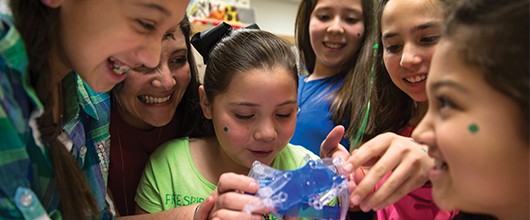 Sponsor A Girl Scout Event Or Program
Demonstrate your commitment to girls and their communities by supporting one of our annual events or one of our programs. 
For more information, contact our Fund Development staff at 602-452-7000 or 1-800-352-6133, or by email at donate@girlscoutsaz.org.
 



EVENT SPONSORSHIPS
Become a sponsor for one of our annual events. You'll be reaching an influential group of women and girls with various levels of recognition that may logo placement, event recognition, advertising, and co-branded communications.
The Women and Young Women of Distinction Awards is our annual fundraising luncheon that honors women and young women who demonstrate extraordinary leadership in community service and who represent the Girl Scout Promise and Law. Held annually in November. You'll find more event and sponsorship information here.
A Girl's World Conference
Girl's World is a premier half-day conference addressing the most important issues affecting the lives of Arizona's girls today and how we need to equip them for tomorrow. AGW brings together the best speakers, authors and subject-matter experts to provide the latest information for those involved with girls, whether policy makers, program funders, professionals, Girl Scout leaders or parents. Held annually every February.
Gold & Silver Awards Celebration
The Gold and Silver Awards is a well-deserved celebration for the families and recipients of the prestigious Gold and Silver Awards – the highest awards a Girl Scout can earn. Prior to the award ceremony, there is the opportunity to talk to the girls about their Gold Award projects and view the displays they have created. Held annually every spring.
 


PROGRAM SUPPORT
You can have a direct impact on the quality of Girl Scouting and the opportunities available to girls by providing the sustaining support to our programs. Read about the options and programs below that including financial aid and camperships, improving our camp facilities, reaching girls at risk, and building organizational capacity for the Arizona Cactus Pine Council.
General Operating Support
From developing new programming to innovative volunteer support, general operating support helps Arizona Cactus-Pine direct resources to projects where they are needed most to fulfill the Girl Scout Leadership Experience outcomes for girls.
Financial Assistance
We believe all girls should have the opportunity to become a Girl Scout, regardless of their family's financial status and ability to pay. We provide financial assistance for national membership dues, books and materials, program events, camp, girl uniforms, and adult trainings. Your support can help a girl enjoy a week of summer camp, or simply belong to a troop equipped with the necessary supplies.
Last year alone, we provided $35,000 in financial assistance.
Our camps are a place where girls can create memories, make new discoveries, develop lifelong friendships and learn new skills. Girls learn to care for and protect the environment and feel part of the camp community. Our camps are accredited by the American Camp Association and are open to all girls.
You support for our camps would be used to maintain and improve the facilities.
This is an outreach program for girls residing in low-income neighborhoods, housing projects, and underserved parts of the community. The program is free for participants, is staff-driven, and delivered in safe, nurturing environments (55 locations valley-wide) where girls build character and learn skills for success in the real world. WBIG programs are a minimum of eight (8) weeks in length and include traditional Girl Scout activities such as songs, games, crafts, and snacks.
Girl Scouts Beyond Bars works with incarcerated mothers and their daughters in order to decrease the negative impact of parental separation. The program aims to nurture or reestablish mother-daughter relationships and encourages them to make positive decisions in the future. Girl Scouts Beyond Bars is offered at both the Maricopa County Sherriff's Office (MCSO) Estrella and Arizona Department of Corrections Perryville Prison. A key component of the program is the community troops, which serves the girls participating in this program. Community troops meet twice a month and include traditional Girl Scout activities such as songs, games, crafts, and snacks
Baby Camp is a weekend experience for pregnant and/or parenting teen moms and their children. It is an opportunity to help pregnant and parenting teens take better care of their children, while giving them tools to create better lives for themselves. Baby Camp provides resources to help girl's gain access to medical care (physical/mental) for themselves and their babies, finish high school, find a job, and adequate daycare.
This program focuses on personal leadership as a vehicle for world change. Girls learn to evaluate their own strengths and weaknesses, manage stress generated by school, family and life in general, and make strong decisions that affect their future and the future of their communities.
AYOL is a dynamic personal leadership development program for Girl Scout adult volunteers and troop leaders. Participants engage in a process of reflection, exploration and regeneration designed to enhance the ability of volunteers to serve girls by modeling inner leadership and community action.